OUR RESEARCH & DEVELOPMENT CENTER
OUR SCIENTIFIC AND INTERNATIONAL SPORTS GUARANTEES
BV SPORT compression textiles are developed and manufactured in France in Saint-Etienne in our production unit. They meet a rigorous set of specifications defined by our research and development center composed of textile engineers and doctors.
Our compression ranges (recovery socks, sleeves, etc.) have been manufactured since 2006 on circular medical knitting machines in our own production unit in Saint Etienne. Our factory responds to a quality system that ensures total traceability for optimal production monitoring.
BV SPORT LAB: 20 ​​years of experience.
BV SPORT is 20 years of experience and research in Contention / Compression to improve the physiology of athletes of all levels.
Numerous scientific studies * validated by the founding physicians of BV SPORT and by independent clinical investigation centers *, added to the validations by MRI (ultramodern medical imaging), ultrasound, Phoebo-Scanner and morphological measuring device, confirm the superiority of the BV SPORT concept.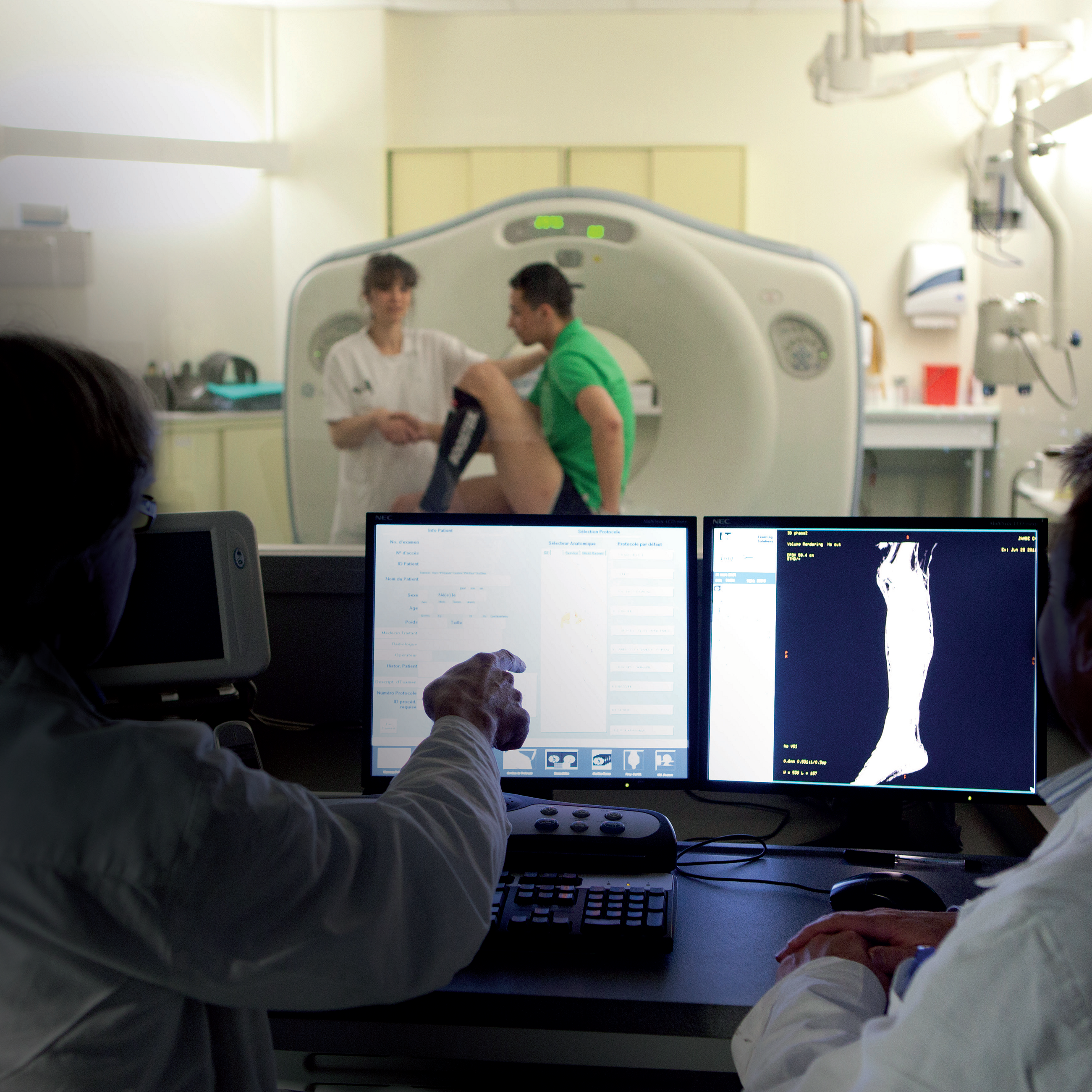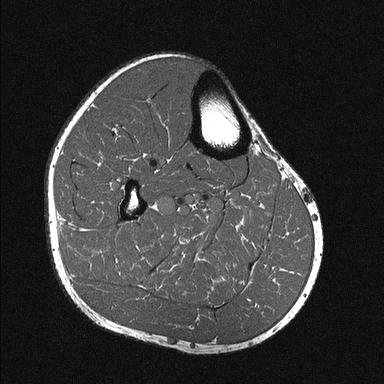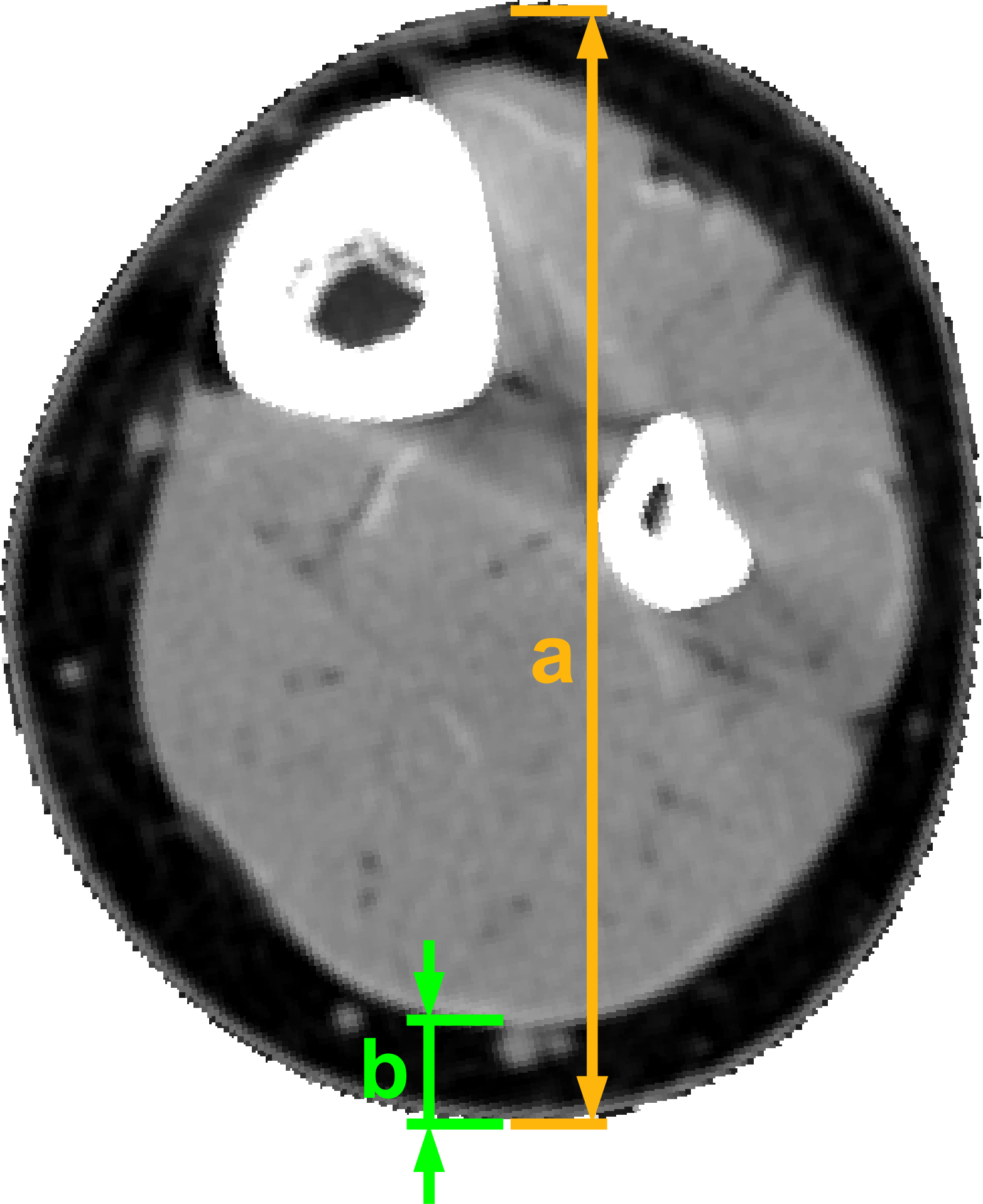 MRI validation
- All of these studies were presented at medical congresses around the world and published in international scientific journals *.
- The many innovations from our R & D center are patented and protected internationally.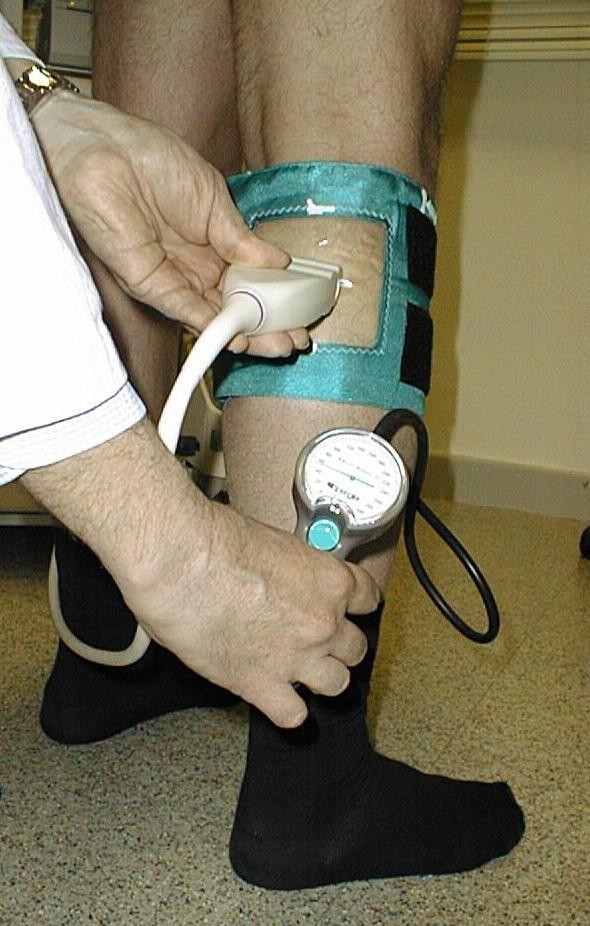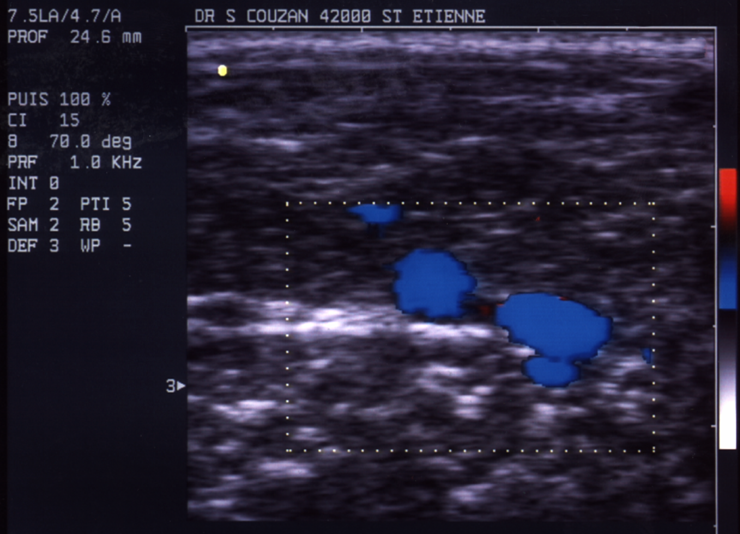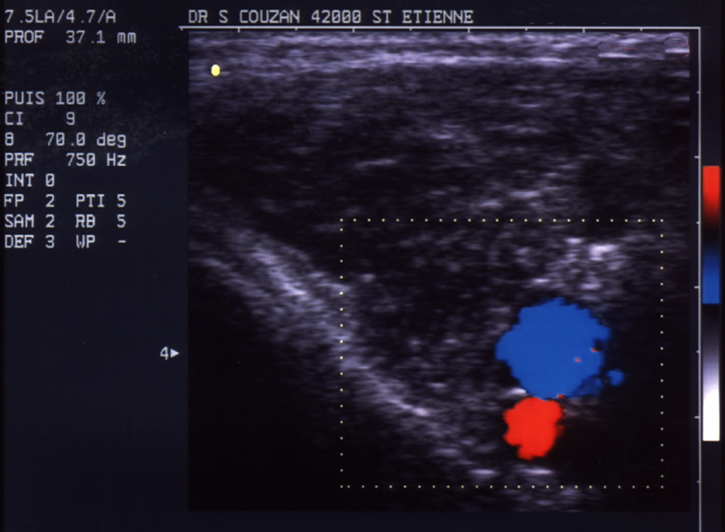 Voltage cuff with acoustic window and echo doppler probe
A LITTLE HISTORY
Since the dawn of time, the man tries to improve his performances. In ancient times, Egyptians used compression bandages to fight leg pain and fatigue.
The Spartans and Romans wore sandals with leather straps intertwined from the ankle to the upper calf to reduce edema and swelling of the legs due to fatigue.
Much later, in the 1950s, with advances in technology, elastane appeared, a new generation of compression stockings was born, replacing knitted tapes and stockings.
IMPROVING RECOVERY AND PERFORMANCE THROUGH COMPRESSION.
In 1996, Michaël Prüfer, co-founder of BV SPORT, is both an angiologist and Olympic champion in speed skiing. Aware of the important role of recovery to improve performance, he invented a new kind of compression stockings and specifically dedicated to the recovery of athletes.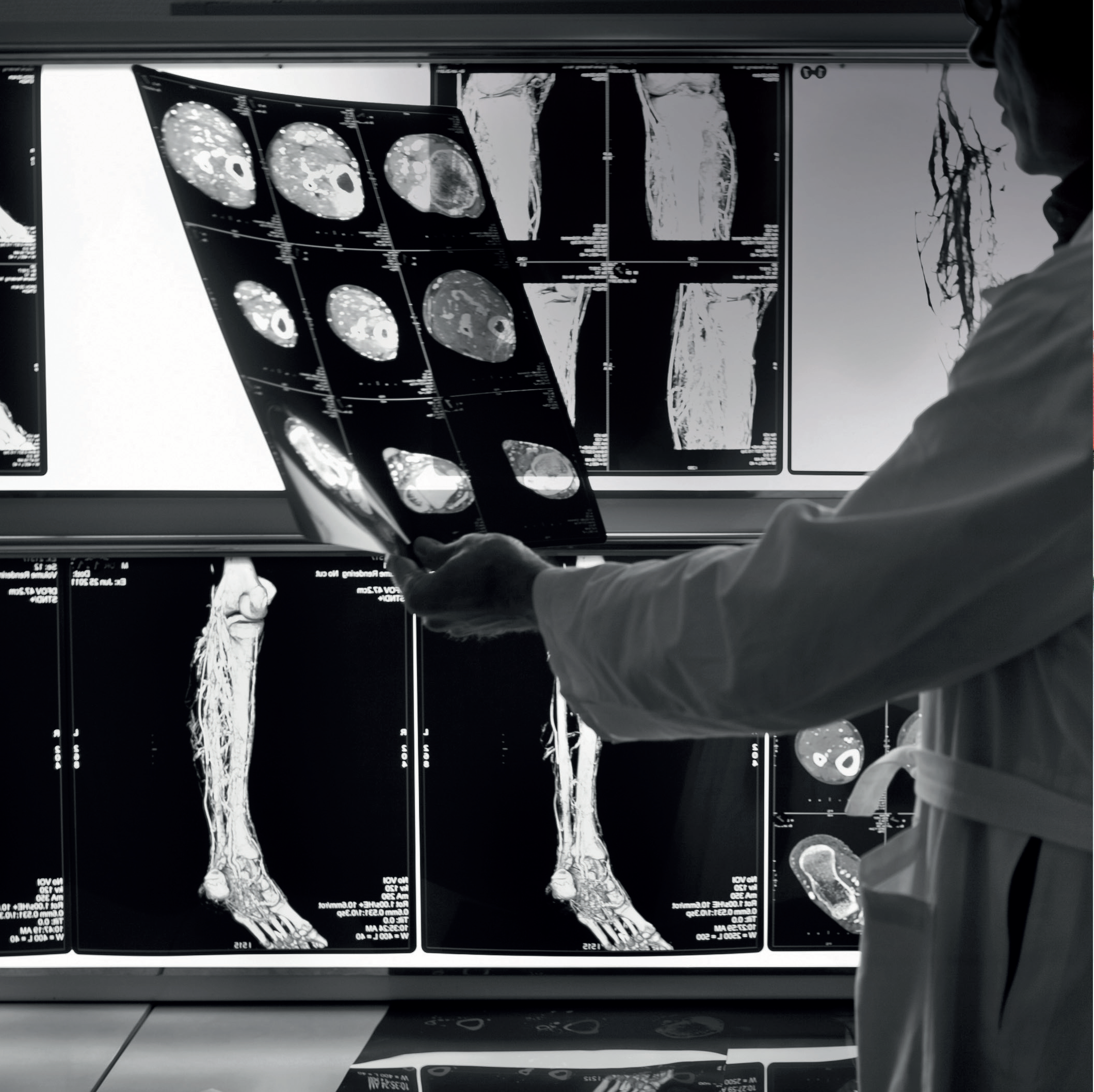 Dr. Mickaël Prüfer Olympic Champion JO Albertville. Co-founder of BV SPORT
Going against existing medical stockings and adapted to venous insufficiency, and assuming that the muscular activity of the triceps sural is essential for the venous pump to be effective, it develops socks with inverted pressure gradients applied. calves and not ankles ...
BV SPORT (Booster Veines Sport) was created in 1998 to exploit this first patent.
Since then, BV SPORT has continued to innovate in the field of compression, and to date many independent scientific studies have demonstrated the superiority of avant-garde BV SPORT compression.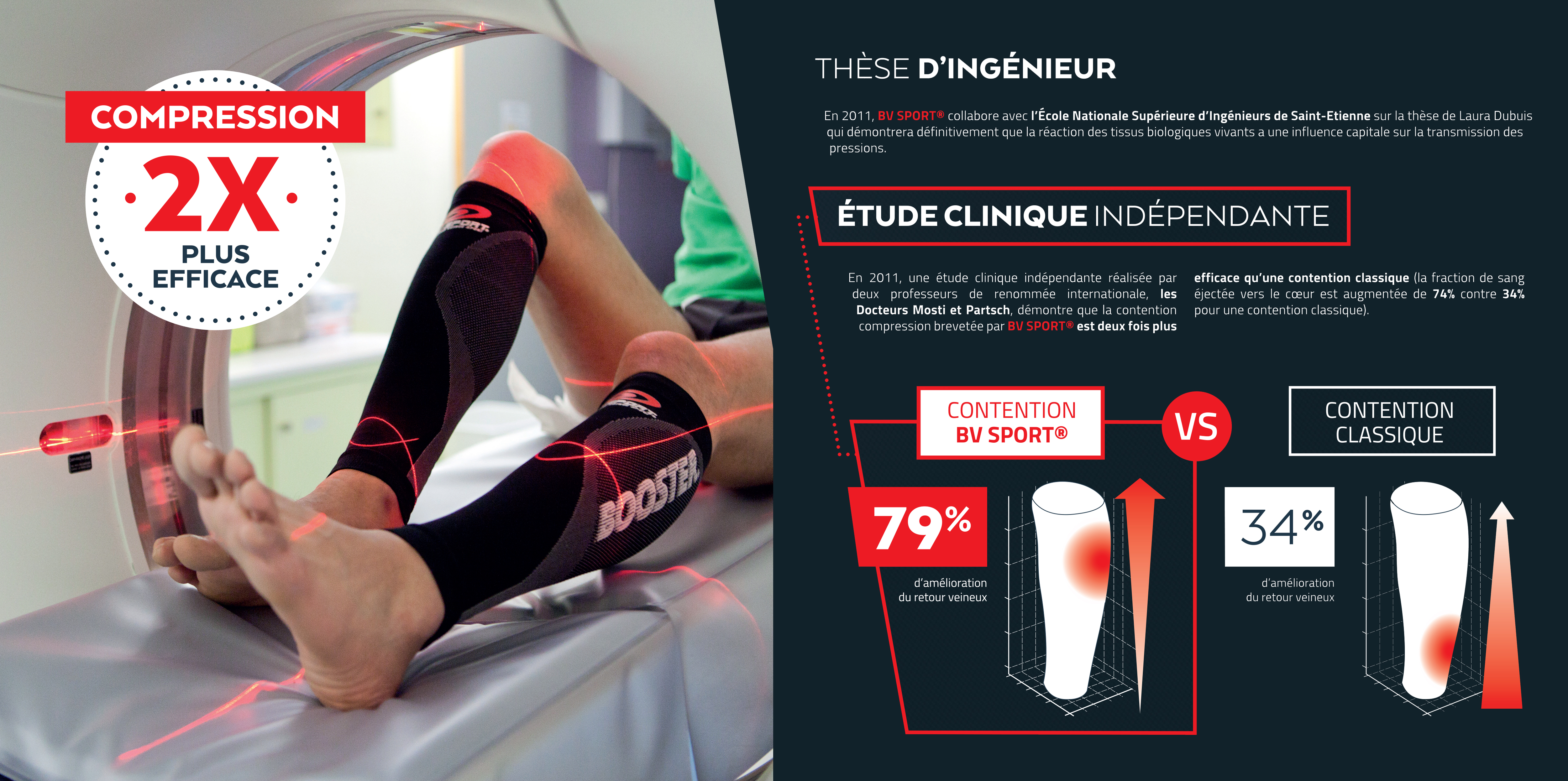 OPTIMIZATION OF PERFORMANCE.
In 1999, BVSPORT innovates by reinforcing by flexible and rigid meshes the various muscular zones of the calf to compress on the ranges of socks of recovery "effect booster". This will be the first sock with selective compression.
During the 2000s and with its experience, BVSPORT invents the famous BOOSTER sleeve, offering athletes of all levels, a natural help to improve their performance. Sold since more than 1 million copies, the BOOSTER quickly becomes essential in endurance sports. BV SPORT pioneer in compression is the leader in the field of improving recovery and sport performance.
SELECTIVE COMPRESSION
From 2008 and the creation of the production unit in Saint-Etienne, textile engineers are intensifying their research on the technical construction of meshes to further target compression: The launch of an ELITE range is validated.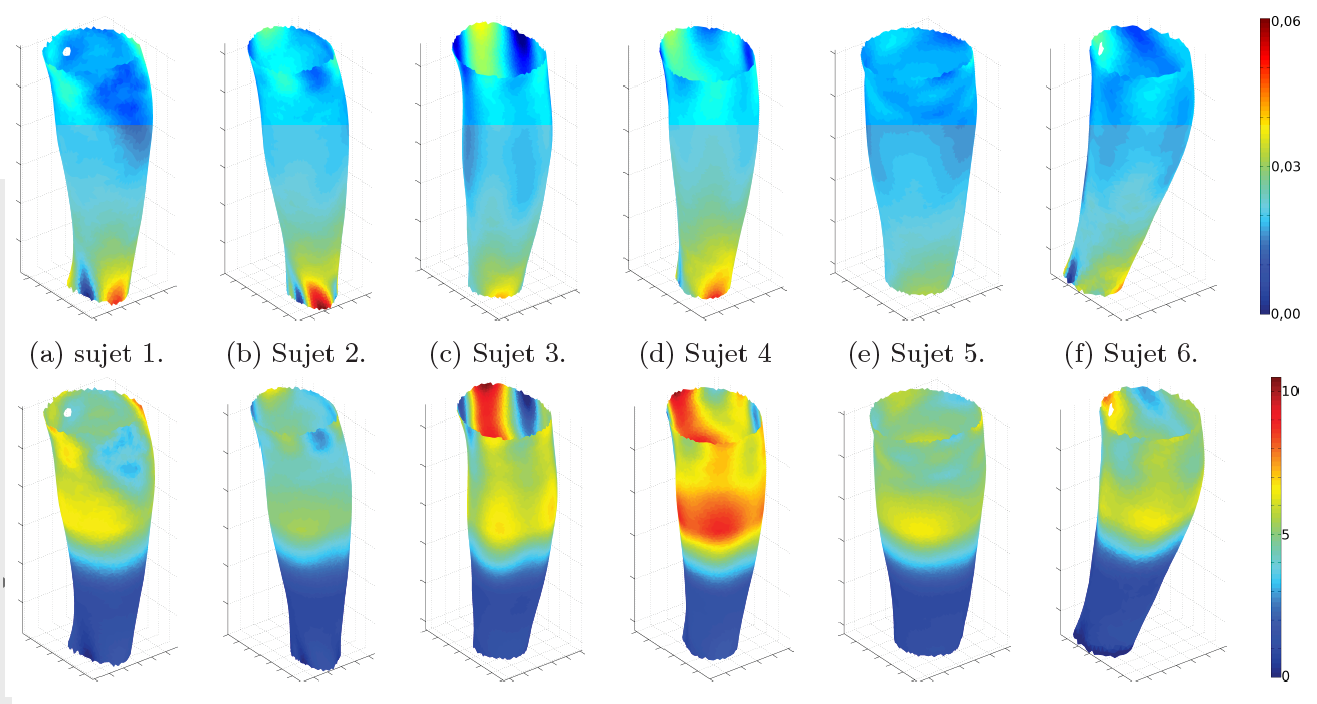 Modeled visualization of the pressures received by the different living biological tissues
The first prototypes designed, are tested by the doctors of BV SPORT R & D center by ultrasound, Phleboscanner and MRI. The results are amazing, they show that the pressures transmitted to the lower limbs vary according to the type and thickness of the living biological tissues that compose them. These tissues behave like pressure dampers (muscles and fat) or on the contrary are incompressible (bone and to a lesser extent tendons and nerves).
These innovative parameters allow us to design mesh with variable stiffness (flexible / semi-rigid / rigid) which are integrated in 2011 in the manufacture of our compression ranges (Booster and ProRecup), then more recently on our ranges of shorts.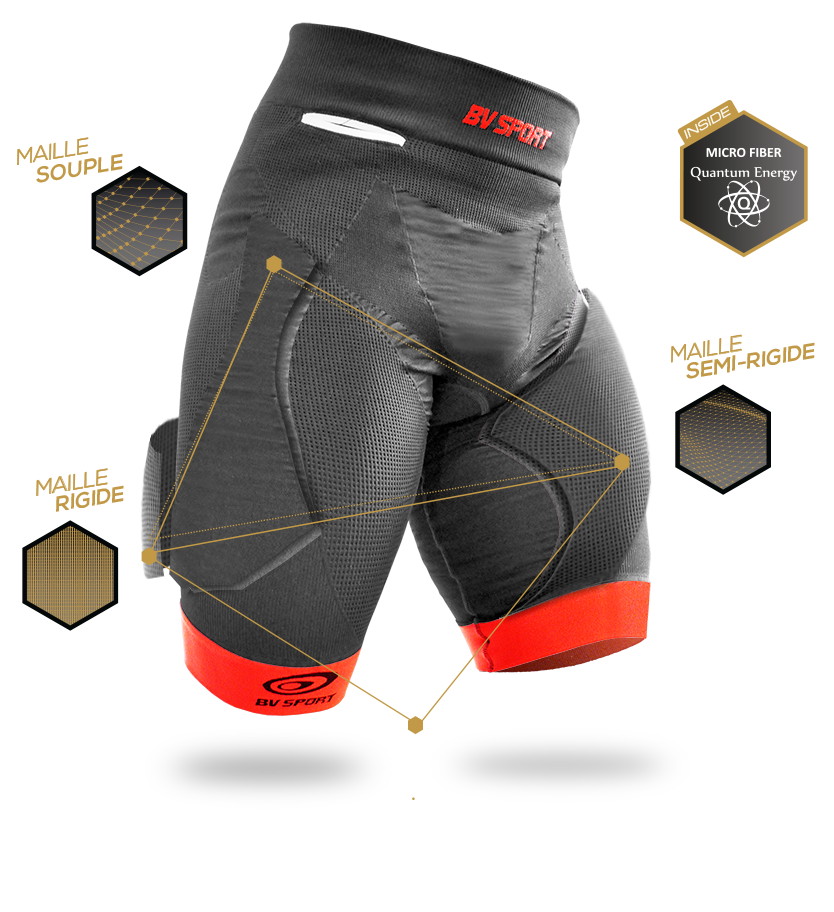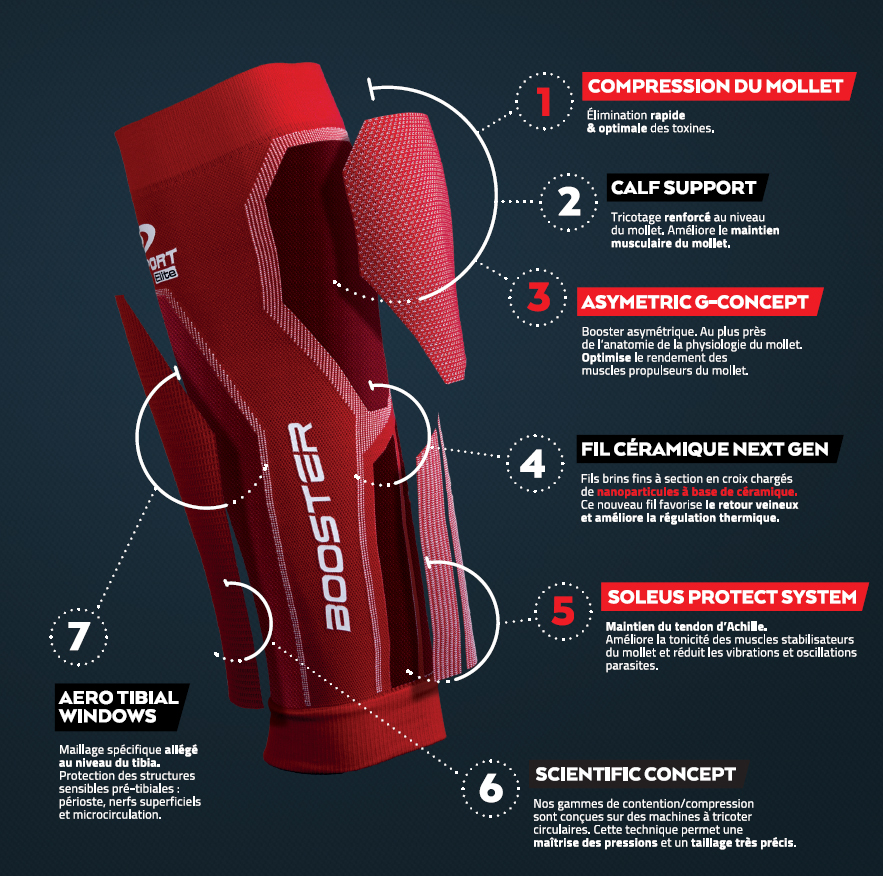 Selective compression targets compression at the required locations taking into account the reaction behavior of living biological tissues. Selective compression respects the anatomy and physiology of athletes, optimizes muscle biomechanics in motion, improves venous return, limits parasitic vibrations and oscillations, decreases the risk of stiffness and DOMS and reduces the fatigue threshold.
All these innovations allowed us to significantly evolve our initial patent.
From the progressive compression of the 90's, BV SPORT has switched to selective compression, modern and twice as effective.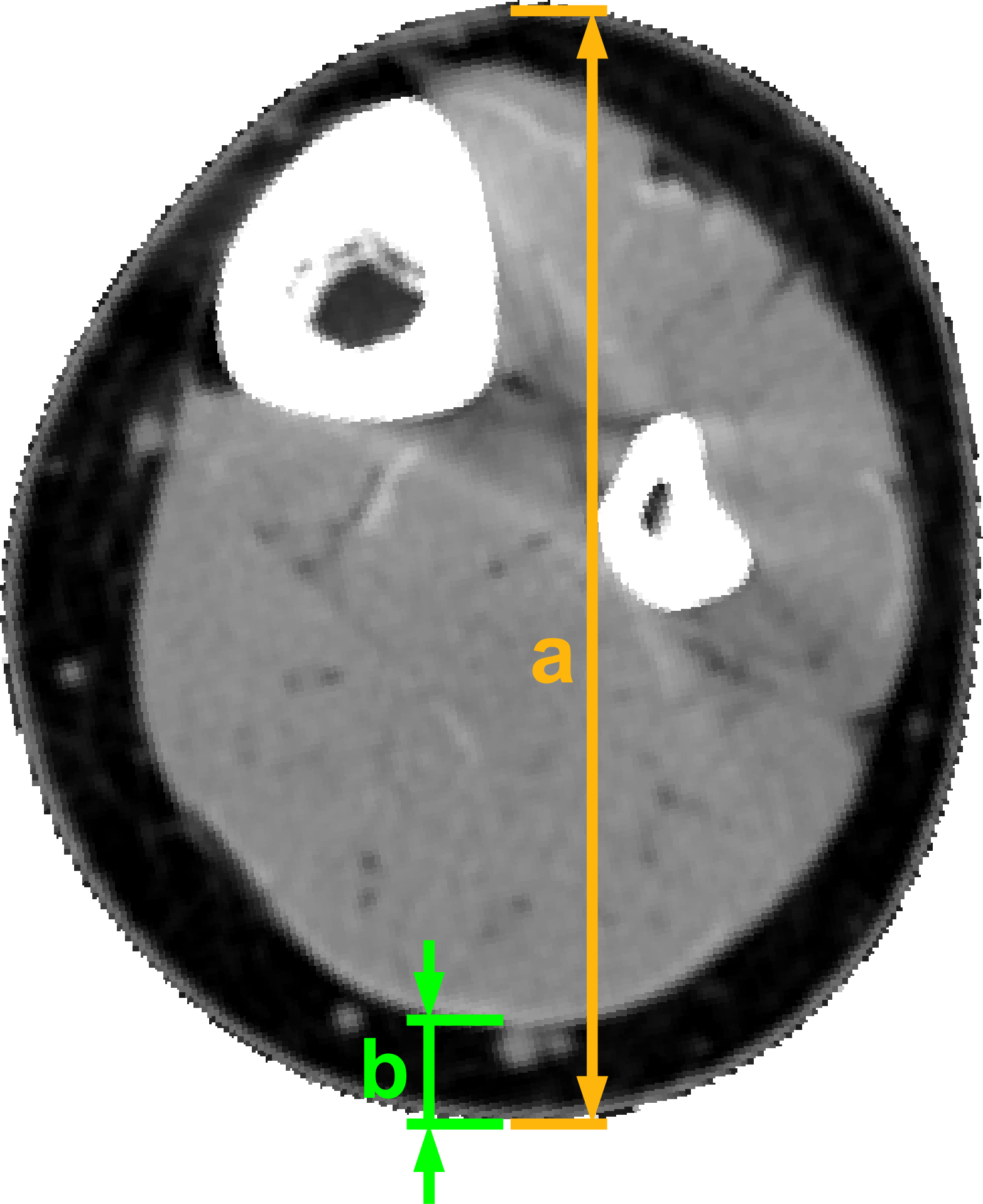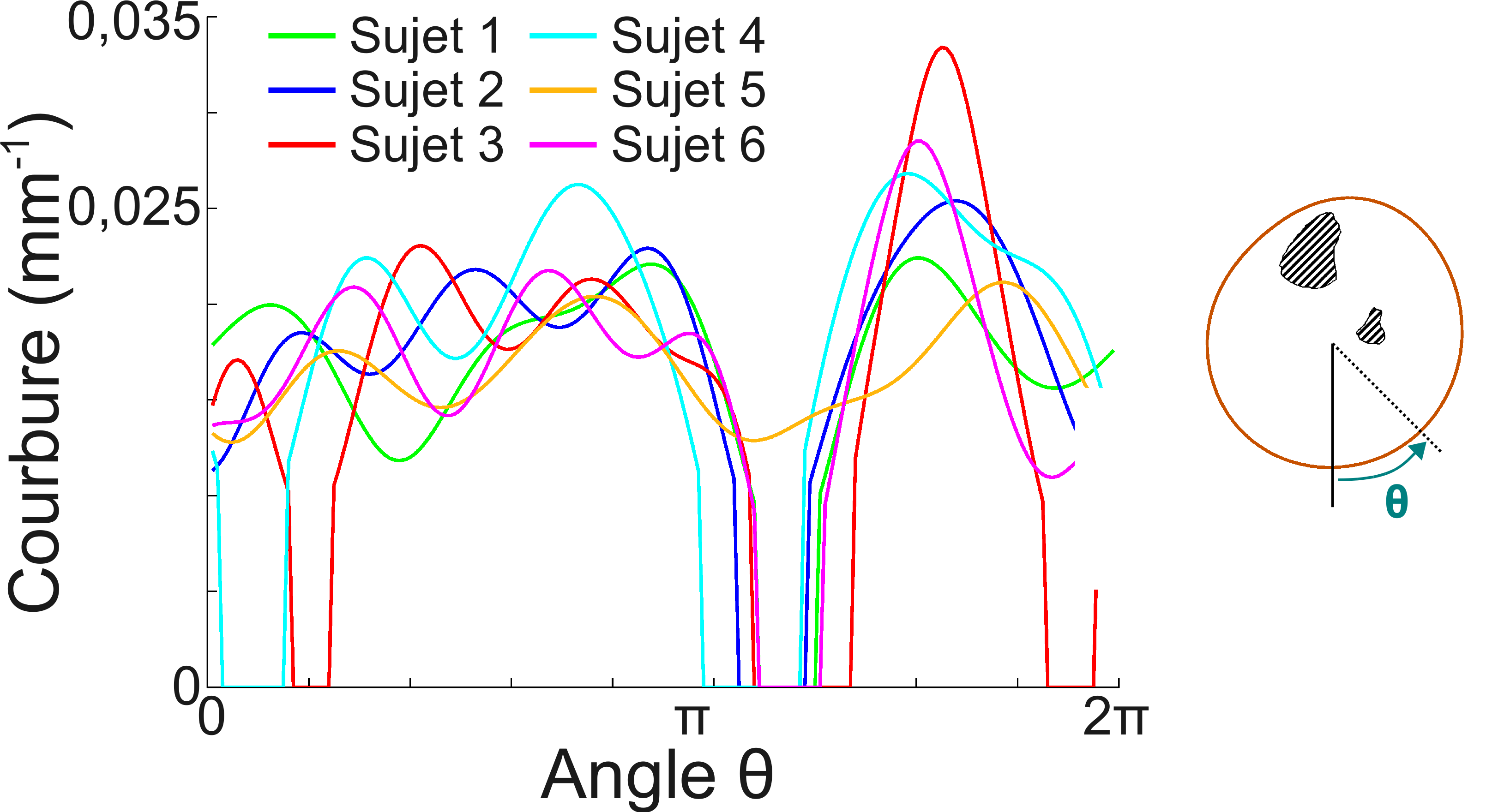 Preview thesis of engineer Laura Dubuis
MANUFACTURING MADE IN FRANCE HIGH TECH - A UNIQUE KNOW-HOW
The evolution of the new high-performance knitting machines and the technical advances in textile, especially in the use of new NEXTGEN fibers, allow us to design and manufacture products of extreme precision, both in industrial design and in the field of human bio-mechanics.
PRESTIGIOUS CLIENTS
Since 1998 our contention / compression ranges have been validated and advised by the medical commissions of most professional clubs and sports federations and are used and acclaimed every day by more than 20,000 top athletes from around the world. ..
--------------------------------------------------------------------------------------------------------------------------
OUR STUDIES AND THESES:
> Professor A. ALLAERT / BV SPORT®: Randomized controlled study of the effect of a BV SPORT® progressive / selective compression compression sleeve on endurance and recovery. (Center of performance and sport of Dijon).
> Professor A. ALLAERT / CENBIOTEC / BVSPORT - Observational study of the reduction of cellulite under the effect of BV SPORT® shorts during exercise sessions.
> L. DUBUIS - National School of Engineering of Saint-Étienne / BV SPORT®12 / 2011 Biomechanics of the soft tissues of the human leg under elastic compression
> AVRILS, BOUTEN L., DUBUIS L., DRAPIER S., POUGET JF.:Mixed experimental and numerical approach for characterizing the biomechanical response of the human leg under elastic compression. J Biomech Eng. 2010 Mar; 132 (3): 031006.
> POUGET J.F., GEDROYC W.M.W, PRUÅNFER M., ARGAUD C., MISMETTI P., COUZAN S .: Nuclear magnetic resonance (N.M.R) study of leg venous drainage with and without elastic compression socks
(traditional and new BVSPORT concept). Int Angiol, June 2000, 19 (suppl. No. 2) 58.
PRUÅNFER M., FERRET J.M., POUGET J.F. COUZAN S: Invention of a device for measuring venous pressures by echo-doppler. Results at 229 athletes. Journal of Radiology; 49th French Journées de Radiologie, Oct. 2001: 1220.
> MOSTI G., PARTSCH H .: Compression Stockings with a Negative Pressure Gradient Have a More Pronounced Effect on Venous Pumping Function than Graduated Elastic Compression Stockings, Eur J Vasc Endovasc Surg. 2011; 42: 261-266.
> MOSTI G., PARTSCH H .: High compression over the calf is more effective than graduated compression in enhancing venous pump function. Eur J Vasc Endovasc Surg. 2012 Sep; 44 (3): 332-6.
> A. LEIZOROVICZ, S. LAPORTE, P. MISMETTI, JF. POUGET, C. CHAPELLE, I. QUERE, S. COUZAN: A randomized double-blind trial of upward progressive vs. degressive compressive stockings in patients with moderate to severe chronic venous insufficiency, J Vasc Surg. Nov 2012; 56 (5): 1344-1350. (BV SPORT® / Pierre Fabre Laboratory)
BV SPORT® PATENTS:
> BV SPORT® Patent / N ° BR / 079540 N.CORONA S.CORONA Doctors J.F. POUGET, S. COUZAN
> BV SPORT® Patent / No. PCT / FR97 / 01892 Dr. M.PRUFER Doctor S.COUZAN
> BV SPORT® Patent / No. PCT / EN 00/011956 Dr. S.COUZAN Dr. M.PRUFER
> Patent BV SPORT® / Pierre Fabre Drug N ° PCT / FR 2 936409B1 Doctors M PRUFER, S. COUZAN
> Patent BV SPORT® / Pierre Fabre Drug No. WO2010 / 037609 compression stoking for moderate to severe crhonic venous insufficiency